SACRU-Centesimus Annus research "More Women's Leadership" was  presented at Expo Dubai
Promoted by the Centesimus Annus Foundation and SACRU, the scientific initiative aims to identify a new model for social inclusion directed at breaking down the barriers that hinder women's access to top positions. The final results of the survey will be premiered to the Holy Father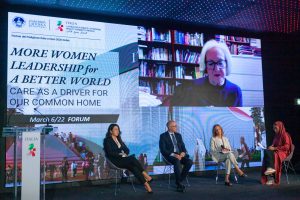 On Sunday 6th, March 2022, at 6. p.m. Dubai Time (3 p.m. CET), the Italian Pavilion at the Universal Expo in Dubai hosted the presentation of the international research project "More Women's Leadership for a Better World." The project is a joint initiative realized by Centesimus Annus Pro Pontifice Foundation (CAPPF) and SACRU.
The event preceded World Women's Day by two days. It was attended in Dubai by Franco Anelli, Rector of the Università Cattolica del Sacro Cuore, Pier Sandro Cocconcelli, SACRU Secretary-General, Isabel Capeloa Gil, Rector of the Universidade Catòlica Portuguesa,  and Silvia Rigato, Managing Director at Accenture. Anna Maria Tarantola, President of the CAPP Foundation, and Lisa Sowle Cahill, Professor of Ethics at Boston College, were present remotely. Aida Al Busaidy, Senior Advisor at the Dubai Economic and Tourism Department, moderated the presentation.
As the full title indicates – "More Women's leadership for a better world: care as a driver for our Common Home" – the research project aims to identify a new model of solidarity, inclusion, and sustainable development, which focuses precisely on the increased presence of women in decision-making roles. It is also about women who show a remarkable ability to carefully provide for the needs of people and the planet and care for the common good with a long-term vision. These characteristics are essential in the current health, environmental and social crisis context. The research is conducted in ten countries – where the SACRU and Centesimus members are based – and the final results will be presented after the summer at the Holy See.