SACRU presented itself at Expo Dubai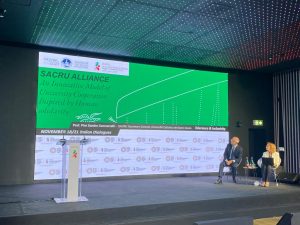 SACRU is an example of how, despite the difficulties arising from the pandemic period, it is possible to collaborate internationally to produce research articles, position papers, or create joint activities for the training of students. That is a 'University without walls' because the physical barriers imposed by Covid-19 have not affected the establishment of solid academic and human relations. At the Italian Pavilion event, we will try to convey this message and to demonstrate concretely, in the Week of Tolerance, the inclusive role played by Catholic Universities in expanding collaborations with the Emirates research networks

Pier Sandro Cocconcelli
The event "SACRU Alliance: an innovative model of University cooperation inspired by human solidarity" took place at Expo Dubai, Italian Pavilion, on November 18th, 2021.
The Alliance has brought together eight Catholic Universities committed to research since 2019: Australian Catholic University, Boston College, Pontificia Universidad Católica de Chile, Pontifícia Universidade Católica do Rio de Janeiro, Sophia University, Universidade Católica Portuguesa, Università Cattolica del Sacro Cuore, Universitat Ramon Llull. Therefore, the 18th November event at Padiglione Italia will be the opportunity to present the research and educational work realized by SACRU in the last two years.
The presentation scheduled five speakers: Prof. Pier Sandro Cocconcelli, Secretary-General of SACRU, Prof. Lilian Ferrer of the Pontificia Universidad Catòlica de Chile, Prof. Carlo Gallucci of the Universitat Ramon Llull, Prof. Chris Riley of the Australian Catholic University, Prof. Isabel Vasconcelos of the Universidade Catòlica Portuguesa.
Not only was the event in Dubai a SACRU presentation, but an excellent opportunity to consolidate ties with the large Alumni Communities in the Emirates and create deeper institutional networks and partnerships with local universities.